Ron Kittle hit .345/.442/.752 in 472 at-bats in Edmonton in 1982 as a 24-year-old in Triple-A. Ryan Howard hit .280/.367/.460 in 493 at-bats in Lakewood in 2002 as a 22-year-old in Low-A ball. Those two bats might be the greatest power hitters of the past 30 years when it comes to raw power so why did Kittle hit 50 homers in 1982 but Howard only hit 19 home runs twenty years later? Welcome to minor league park factors.

We often look at park factors at the major league level when doing player evaluations and they change year by year. Did you know that Rogers Centre was actually a home-run suppressing park in 2008 and 2009 before becoming a launching pad last season? How about the fact Busch Stadium was tougher on right-handed home runs last season than Dodger Stadium? The park data is pretty easy to figure out – we even carry it right here for you on our site. If you want to see how the park data breaks down by handedness, statcorner.com has that for you by team. They even have the park factors for minor league parks. Yes, such information exists and it is often overlooked and thanks to statcorner and Baseball Think Factory, we can now get a better feel for that information.

Statcorner is kind enough to break it down by handedness, but Dan Szymborski does a small miracle every year by publishing the three-year weighted averages of minor league park factors as well as the one year park factors. I find the three-year factors he publishes a godsend because it helps remove any bias from a particular season such as Rogers Centre last year in the majors. Having this kind of information several years ago would have helped you understand why your Ian Stewart pick was not making it to the major leagues as quickly as you had hoped.

Stewart debuted in 2003 in the Pioneer League and hit .317/.401/.558 in just 257 plate appearances in Casper which is part of the very offensive-friendly rookie league. The next season, Stewart reported to Asheville in the South Atlantic League and they play their games in historic McCormick Field. That season, Stewart surged as a 19-year-old and hit 30 home runs, drove in 101 runners, and put up a slash line of .319/.398/.594 in 505 at-bats. Fantasy leaguers saw those numbers and drooled at what he might do at Coors Field in a few seasons and rushed to stash him on their minor league roster. The next season, Stewart hit just 17 home runs in High-A Modesto with a slash line of .274/.353/.497. Where did all of his power go?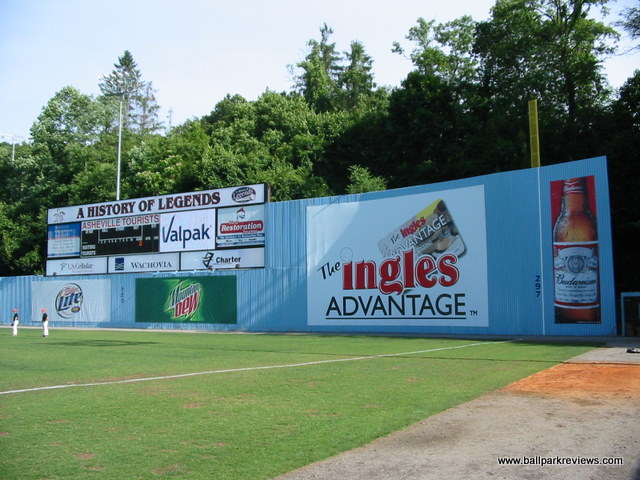 That is a picture of the right and right-center field area in McCormick Field. If you squint, you can see the numbers "297" down the right field line and "320" to the gap in right-center field. Sure, the fence is as high as the Green Monster there, but that short porch is a left-handed pull hitting dream and that is exactly what Ian Stewart did in 2004. Even if he went the other way, the challenge was not that great as the deepest part of the yard is but 373 feet to dead center field.

With that in mind, here are some of the friendlier and more hostile environments in the minor leagues over the past three seasons. Keep these in mind as you look at hitters and pitchers from these parks as it helps put their numbers in perspective.

Run-Friendly:

- Albuquerque (Triple-A/PCL/Dodgers)
- High Desert (High-A/Cal/Mariners)
- Asheville (Low-A/Sally/Rockies)
- Colorado Springs (Triple-A/PCL/Rockies)
- Erie (Double-A/Eastern/Tigers)
- Greensboro (Low-A/Sally/Marlins)

Run-Hostile:

- Portland (Double-A/Eastern/Red Sox)
- Inland Empire (High-A/Cal/Angels)
- Trenton (Double-A/Eastern/Yankees)
- Connecticut (rookie-level/NY-Penn/Tigers)
- Arkansas (Double-A/Texas/Angels)
- Delmarva (Low-A/Sally/Orioles)

Home Run Friendly:

- Everett (short-season/Northwest/Mariners)
- Greensboro (Low-A/Sally/Marlins)
- High Desert (High-A/Cal/Mariners)
- Reading (Double-A/Eastern/Phillies)
- Albuquerque (Triple-A/PCL/Dodgers)
- Frederick (High-A/Carolina/Orioles)

Home Run Hostile:

- Tri-City (Short/Northwest/Rockies)
- Modesto (High-A/Cal/Rockies)
- Lakewood (Low-A/Sally/Phillies)
- Lake Elsinore (High-A/Cal/Padres)
- Inland Empire (High-A/Cal/Angels)
- Rome (Low-A/Sally/Braves)

This is why the Albuquerque team batting average was .302 and the team slash line was .302/.357/.480. Xavier Paul and Trent Oeltjen, two prospects who lost their luster long ago, both had slugging percentages over .525 in Albuquerque last season. It is also what made James McDonald's efforts impressive there last season as he had a 4.41 ERA in 12 starts with the club and gave up just four home runs in 63 innings. Greensboro has been a problem for Marlins power prospects in the past because Greensboro is as friendly to home-run hitters as Jupiter is unfriendly to power hitters at the next level up. The Marlins have had many of their prospects tear up Greensboro only to suffer a power outage upon their promotion to the next level. Conversely, notice that Phillies prospects in Low A ball have it tough at Lakewood but if they can make it to Double-A, they have a much easier time in Reading.

When you are deciding with prospects to target in 2011, make sure you look at their statistics in context. The numbers they put up are one thing, but where they put them up are just as important because not all parks, and leagues for that matter, are created equally. Hitting 25 home runs in the Pacific Coast League is rather pedestrian but 25 home runs in the Eastern League should get your attention.