The modern-day record for strikeouts in a single Southern League season is held by former Expos prospect Brian Barnes who struck out 213 batters in 1990 in 201.1 innings pitched for the Jacksonville Suns while playing in old Wolfson Park. Thankfully, that place has been replaced by the gorgeous Baseball Grounds of Jacksonville and I enjoyed many games there when I lived in Jacksonville getting to see James Loney, Andy Marte, and Shane Victorino on their climb to the big leagues. That stadium was replaced several years ago, and Barnes' strikeout record may be replaced this season as well with Matt Moore pitching in the league this season.

Moore has led the minor leagues in strikeouts each of the past two seasons and in four professional seasons, has never had a K/9 below 12.8. His statistics are outstanding: 347 innings pitched, 239 hits, just 14 home runs allowed, 166 walks, and 497 strikeouts. That's a 12.9 career K/9, a 4.3 BB/9, and a 0.4 HR/9. His efforts last season were even more impressive when you consider that he pitched the entire season with bone chips in his prized left elbow. He admitted to that in a recent interview that the chips had bothered him each of the past two seasons and that he only admitted to the problem during instructional league this past offseason. He quietly had offseason surgery to remove the chips, but that surgery did not slow up anything for him to prepare for the regular season as he was the Opening Day starter for the Montgomery Biscuits a few days back. Moore took the loss in that start despite striking out seven batters and allowing just four baserunners in five innings of work.

Moore, with the help of someone who now works in the Rays' front office, did a very nice video in which he tells us exactly what he throws and how he throws it. It is rare to see someone disclose this much information in this kind of format.



In his own words, he throws a fastball, knuckle-curve (with two different grips), and a circle-change. In the aforementioned interview, he talked about an adjustment to his fastball grip involving his thumb placement at the suggestion of pitching coach Neil Allen and that grip is shown in this same video. The adjusted grip gave his thumb relief as he had trouble with it in past seasons and needed cortisone shots for relief in the joint. It is worth noting that Neil Allen is now the pitching coach for Triple-A Durham so when Moore makes the next logical step in his development, he will be reunited with the guy who helped him with a lot of his success last season. That success last year in the Florida State League is by no means a guarantee to future success because many a pitcher have put up a high strikeout rate in the Florida State League only to flame out as they have climbed the ladder.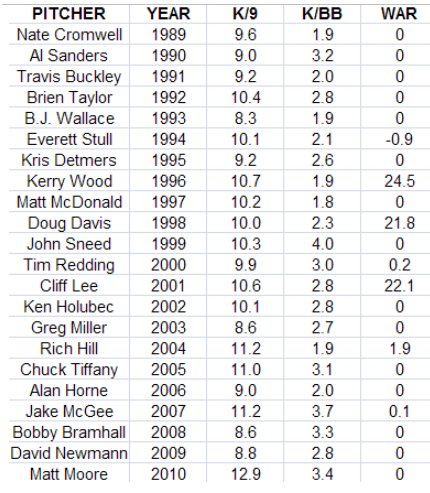 Moore has the highest rate of all of them but notice his former teammate in Jake McGee, who Moore resembles on the mound in terms of his delivery. Also note Chuck Tiffany who was derailed by injuries, Greg Miller who also suffered the same fate, and the infamous Brien Taylor. Only Wood, Lee, Davis, and Redding reached the major leagues with the first three the only ones finding enough major league success to be considered fantasy "hits."

One thing to watch for this season is how Moore gets out of the gate as he has historically been a very slow starter. For whatever reason, maybe it was loosening up his elbow, the early months have not been so kind to him.





Moore's development and success are another success story for the Rays' scouting group who continues to find prospects in unusual places. Jeremy Hellickson was an undersized pitching prospect from Iowa and the only current major leaguers from that state besides Hellickson are Casey Blake, Joel Hanrahan, and Ryan Sweeney. While there have been 211 major league players from Iowa, there have only been 23 from the state of New Mexico where the Rays found Moore and the only active major leaguers from New Mexico are Mike Dunn and Cody Ross.

Once he gets out of May, his numbers are unbelievable across the board as his strikeout rate, groundball rate, and walk rate are the perfect mix of domination organizations want from their starting pitching prospects. Yet, while the numbers are dominating and it is easy to think of future success with the Rays, you need to remember that the Rays are extremely deliberate with the promotion of their pitching prospects. Wade Davis split 2007 between High-A and Double-A while splitting 2008 and 2009 between Double-A and Triple-A before spending most of 2009 with Durham. Jeff Niemann split 2005 between High-A and Double-A, 2006 with Double-A, and 2007 and 2008 in Triple-A before his promotion. Jeremy Hellickson split 2008 between High A and Double-A, 2009 between Double-A and Triple-A, and most of 2010 in Triple-A Durham before his promotion. If Moore gets off to a dominating start in Double-A Montgomery this season, it is easy to him being promoted to Triple-A Durham to join fellow prospects Alex Cobb and Alex Torres but if the Rays promote any of their pitching prospects this season, it will be one of those two rather than Moore. It is possible that James Shields is pitching his last season with the Rays and Jeff Niemann is entering his arbitration years which could make him a candidate to be dealt leaving two potential rotation spots in the next twelve months for the trio of Moore, Cobb, and Torres to compete for. Most likely, Moore has another two full seasons of work in the minors before joining the 25-man roster.

If you have not yet had a chance to see what Moore looks like in action, here's a clip from the guys over at ProjectProspect in which he turns a bat into a toothpick.