You should know by now that closers can come from anywhere. Brad Lidge did not have a single save in his minor league career before being promoted to the Astros' bullpen in 2003 and then getting the closer job in 2004. Lee Smith saved 21 games in 190 appearances in the minors before making it to the majors to save 478 games in his 18-year career. Joe Nathan had two saves in the Giants' farm system and saved one game in his rookie season before being dealt along with Francisco Liriano for A.J. Pierzynski where he went onto save 260 games for the Twins.

There is also a pitcher who in 1990, went 5-1 with a 0.17 ERA allowing just 17 hits in 52 innings of work while striking out 58 batters, walking seven, while throwing a complete game shutout in his only start and picking up one save. Despite those amazing stats, he did not even sniff the top-10 prospect list for the Gulf Coast League that season. Who did?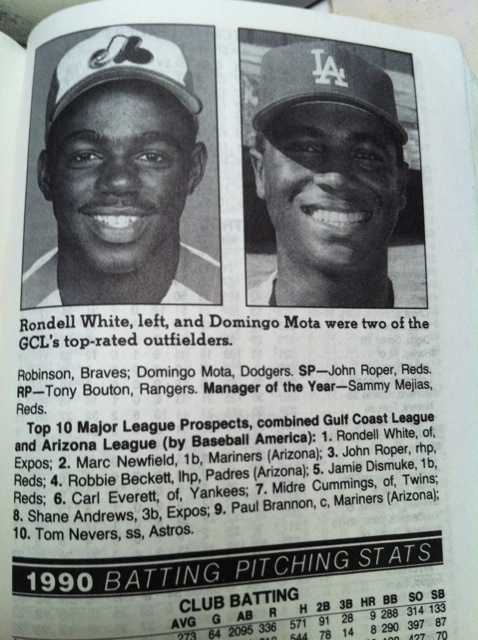 Not one of those guys is still in baseball, but Mariano Rivera is still piling up saves for the Yankees on his way to the Hall of Fame. If you want to find the next major league closer for your dynasty roster, you are better off checking minor league starting rotations than you are minor league bullpens.

We also saw the trend in the early part of the past decade where teams were taking experienced collegiate relievers and fast-tracking them to the majors as was the case with Chad Cordero, Josh Fields, and Ryan Wagner to name a few, but they saw limited success that way. Still, for reserve drafting in reset leagues or dynasty leagues, panning for future saves gold is still a cost-effective way of addressing the category while budgeting money for elsewhere in a draft knowing you have help along the way.

At the Winter Meetings last week, the White Sox did fantasy players a surprise favor by trading Sergio Santos to the Blue Jays. Since the Jays had decided to let Frank Francisco and Jon Rauch go (now both Mets), their ninth-inning role was unsettled without a clear favorite while the White Sox had a few candidates. Now, as we draft prep, we are left with two options: the expensive Matt Thornton and the very affordable Addison Reed. Kenny Williams has already said that the team is rebuilding so keeping an expensive Thornton makes little sense and one has to figure the hard-throwing lefty is unlikely to finish the season with the south siders making a Thornton/Reed handcuff situation or depressing one's value while inflating the other's a bit.

Hopefully, you already have Reed in your dynasty league from his brief time in the majors last season or after seeing him make a late appearance on one of my Top-100 updates in July as the righty has zoomed through the system since being taken in the third round of the 2010 draft out of San Diego State. His minor league numbers are borderline ridiculous as he has allowed just 85 runners to reach base in 108 inning of work while striking out 155 and walking just 20 and surrendering just four home runs. According to the data at TexasLeaguers.com, he threw 136 pitches at the big league level last season, averaging 94.8 miles an hour with his fastball that he used 69 percent of the time along with a slider and a change-up that made up the other 31 percent of his pitch usage. That kind of combination passes a closer's sniff test and when you consider he struck out over seven batters for every one that he walked in his minor league career, you begin to see how the entire package is rather enticing for both AL-only consideration as well as mixed leagues. After all, 40 percent of his plate appearances in Double-A resulted in the opposing batter striking out and the jump to Triple-A still saw him strikeout 32 percent of the batters he faced.

To get a feel of what his fastball, slider, and change-up look like, watch each of the three videos below:

The fastball



The slider



The change-up



The one concern I see there is his arm slot could leave him susceptible to lefties, but the use of the change-up would help that. His splits at minorleaguecentral.com do not show any issues with lefties so far as he had a .160/.180/.227 slash line against them in 122 plate appearances compared to a .155/.225/.239 in 171 plate appearances.

The frustrating part is if Williams is unable to move Thornton before the start of the season, you are almost forced to draft both of these players unless you come across a bargain for Thornton you cannot pass up. Last season, I passed on drafting David Aardsma in AL Tout Wars and went with Brandon League instead for $10 and thoroughly enjoyed the investment while losing out when I spent $5 on Joel Peralta over the $7 Kyle Farnsworth went for.

I am still not a believer of putting closers on a preseason Top-100 list, but that does not mean I am going to pass up at a chance of drafting someone like Reed in a situation the White Sox are clearly getting ready to let him do what Santos did last year and potentially do it for a few seasons. The fact I already rostered him for $2 in my own AL dynasty league is just an added bonus.