An early heads up - the updated Top 100 list will run this time next week. If I have a LABR draft next weekend in Phoenix, I am guessing a few of you also have a draft coming up next weekend as well. Or, you could be in a slow dynasty draft as I am right now in a league and be so overwhelmed with work that you take Luke Scott with the second overall pick over Anthony Rendon. That kind of bone-headed move can happen when you have spent 24 of the last 55 days in 2012 in a hotel room in Texas, Wisconsin, Ohio, Pennsylvania, or Kansas.

This update will have a unique twist to previous ones as it will be a bit of a collaborative effort between Bernie Pleskoff and myself. The ranking will still be my own with their fantasy-tilt but Bernie will be adding his comments to several of the prospects as we work to blend scouting and statistics to help you for your draft day. In a larger project, I am also working on taking the Top 100 study done by Scott McKinney last season on a different tangent by harvesting the statistics behind the WAR production (and that's a body of work) to see if there is anything predictive in good or poor skill sets, particularly for the lower-ranked prospects that show such a high bust rate.

To that end, this time of year in dynasty or keeper leagues lends itself to some of the more beneficial trading conditions of the season. Some teams have too many minor league keepers while others are a bit short-handed. In my local leagues, my NL-only team has Tyler Pastornicky, Gary Brown, and Jarred Cosart as I was in the money at the end of the year and pawning off prospects for help down the stretch. Meanwhile, my AL-only team has Jesus Montero, Ryan Lavarnway, Jean Segura, Martin Perez, and Matt Moore because that team was not in contention last season and I dealt away what I had left to get what I wanted for 2012. Once I fell out of contention, I traded away unkeepables Carl Crawford, Alex Gordon, and a cheap Ivan Nova to acquire Moore and Perez. That owner is now left with nothing and ended up finishing with 10 percent of the prize pot at the cost of giving up Moore who could be retained for the next six seasons at a scale of $5, $5, $20, $20, $20, and $20.

That kind of scenario is the nightmare that keeps many fantasy owners up at night when they are contemplating making a trade because they are giving up controllable and affordable assets. If you win a league title and the purse that comes with it, you can justify giving up a top prospect but if you don't win it all, it just does not feel good to see your competitor holding cheap controllable assets at next year's auction. If you own Bryce Harper in your league, undoubtedly, someone has tried to send you an offer that you can't refuse.

One such offer was shared with me the other day when someone was offered Harper in a 14-team league that includes 10 keepers per team plus six minor leaguers. This person has a rather deep prospect list that includes the likes of Mike Trout, Matt Moore, A.J. Cole, Gary Brown, Bubba Starling, and Bryce Harper. Somehow, in a 14-team league, this owner has been able to acquire the top three prospects in all of baseball, and three of the better members of the next wave of talent. Now, he has an offer on the table where someone wants to give him Anthony Rendon, Trevor Bauer, Danny Hultzen, and Addison Reed for Harper.

In a vacuum, that is a numbers problem because he already has six spots filled rather well so this trade would leave him with nine prospects and needing to cut down to three before the draft. There are two ways to look at this trade: What kind of value is being given up and the immediate impact to his team. We know how to value the real life value of these prospects thanks to Victor Wang's work.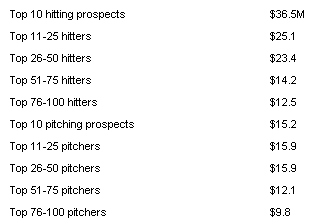 Those values come from valuing each win above replacement at $5M and the research that shows prospects in those ranges average that kind of production during their controllable years. This also helps you frame out how this player can do as a fantasy player although defense is factored into those measures. Let's be pessimistic with Rendon and say he is not a top-10 hitting prospect. Assuming that, here is how the deal breaks down financially:


Rendon - $25.1M

Bauer - $15.2M

Hultzen - $15.9M

Reed - $9.8M
That's $56M of potential value for Harper's $36.5M. The other issue in play is risk assumption. From McKinney's work, we know what the bust/success rate is for prospects by position: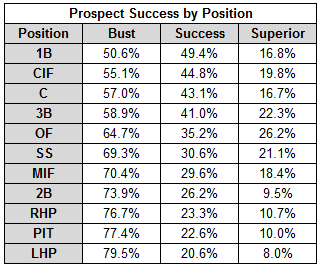 As an outfielder, Harper has the highest percentage of being a superior player. Rendon does not have a definitive position, but if the Nationals move him to second base, the odds work against him compared to him staying at third base. Bauer, Hultzen and Reed as pitchers assume the risk of being pitching prospects as their bust rate is higher than any position player.

The other side of this deal is that all four players received in this deal could impact this owner's 2012 roster in some capacity. Bauer stands to have the most impact unless Reed gets the closer role out of camp, but Hultzen will not be too far behind and Rendon as a middle infielder would be a nice asset later in the season. For all of the talk of Harper coming up to the majors to start the season, he is but one person and a guy that did not exactly dominate Double-A or AFL pitching, particularly of the left-handed variety.

My thoughts on this kind of deal is I am very attracted to the immediate impact of the player return because the owner could take some cheap roster fillers to hold the spots for those prospects and then bring them up after the draft and he would get immediate return on these guys rather than having to wait on that as he is already having to do with Starling and Cole. My one reservation with this type of deal is that it is three pitchers and a position prospect being offered for the game's premier offensive prospect. The key to these types of deals is to blow away the other party so they have no choice but to accept the offer but in this case, there are enough reservations in this for me to advise the owner to decline despite what is on paper. The only way I would take this deal is if I had a keeper list that I thought was a strong contender for the 2012 season because the keeper list would be extended with the addition of four prospects that would play in 2012 along with Matt Moore and Mike Trout. That kind of major-league ready talent would allow the owner to go into the draft with a stars and scrubs draft approach knowing he had excellent insurance policies to cover the scrubs.