In 2014,
Chris Archer
went 10-9 with a 3.33 ERA and 1.28 WHIP. He struck out 173 batters in 194.2 innings while allowing just 12 home runs. Expectations were high for Archer in 2015 as he went $15 in AL LABR to Tristan Cockcroft and went $17 in AL Tout to Lawr Michaels.
Based on the early returns, it was fake money well spent.
Through his first three starts, Archer is 2-1 with a 1.37 ERA and 0.66 WHIP. In 19.2 innings, he has struck out 21, walked four and allowed nine hits, including two home runs. Having watched every pitch he has thrown this season, I can verify he has been as dominant as those numbers suggest. He is sixth on the whiffs (swing and miss) leaderboard this season behind just a few notable names.
| | | |
| --- | --- | --- |
| PITCHER | PITCHES | SWING & MISSES |
| Corey Kluber, CLE | 305 | 50 |
| Clayton Kershaw, LAD | 302 | 46 |
| James Shields, SD | 301 | 45 |
| Brandon McCarthy, LAD | 287 | 44 |
| Tyson Ross, SD | 306 | 44 |
| Max Scherzer, WAS | 299 | 44 |
| Matt Harvey, NYM | 270 | 40 |
| Anibal Sanchez, DET | 276 | 39 |
| Chris Archer, TB | 278 | 38 |
| Miguel Gonzalez, BAL | 302 | 38 |
| Cole Hamels, PHI | 299 | 38 |
| Felix Hernandez, SEA | 289 | 38 |
| Scott Kazmir, OAK | 289 | 38 |
| Jake Odorizzi, TB | 299 | 38 |
(By the way, check out
Brandon McCarthy
!)
As far as level of competition, Archer's starts have come against Baltimore, Miami and Toronto. On paper, one might assume his toughest start came against the powerful Toronto lineup, when in fact it was his best start of the season.
When a pitcher improves, we look into a few things. The biggest problem with doing this in April is that the sample sizes are rather small and even then, not predictive. It is important to remember that sample sizes legitimize what was seen and are not terribly predictive. These are the stabilization points for pitching stats:
•
70 BF: Strikeout rate
•
170 BF: Walk rate
•
640 BF: HBP rate
•
670 BF: Single rate
•
1,450 BF: XBH rate
•
1,320 BF: HR rate
•
630 BF: AVG
•
540 BF: OBP
•
550 AB: SLG
•
630 AB: ISO
•
70 BIP: GB rate
•
70 BIP: FB rate
•
650 BIP: LD rate
•
400 FB: HR per FB
•
2,000 BIP: BABIP
Archer has only crossed the first threshold as he has faced 72 batters this season. So, we can look at what helped him grow his strikeout rate from a strong 21 percent to an excellent 29 percent.
Archer, according to sources, did put work in this offseason with a personal trainer who worked with
David Price
when he was with the team. That would certainly help a pitcher get in good shape, and it is showing up in the velocity thus far.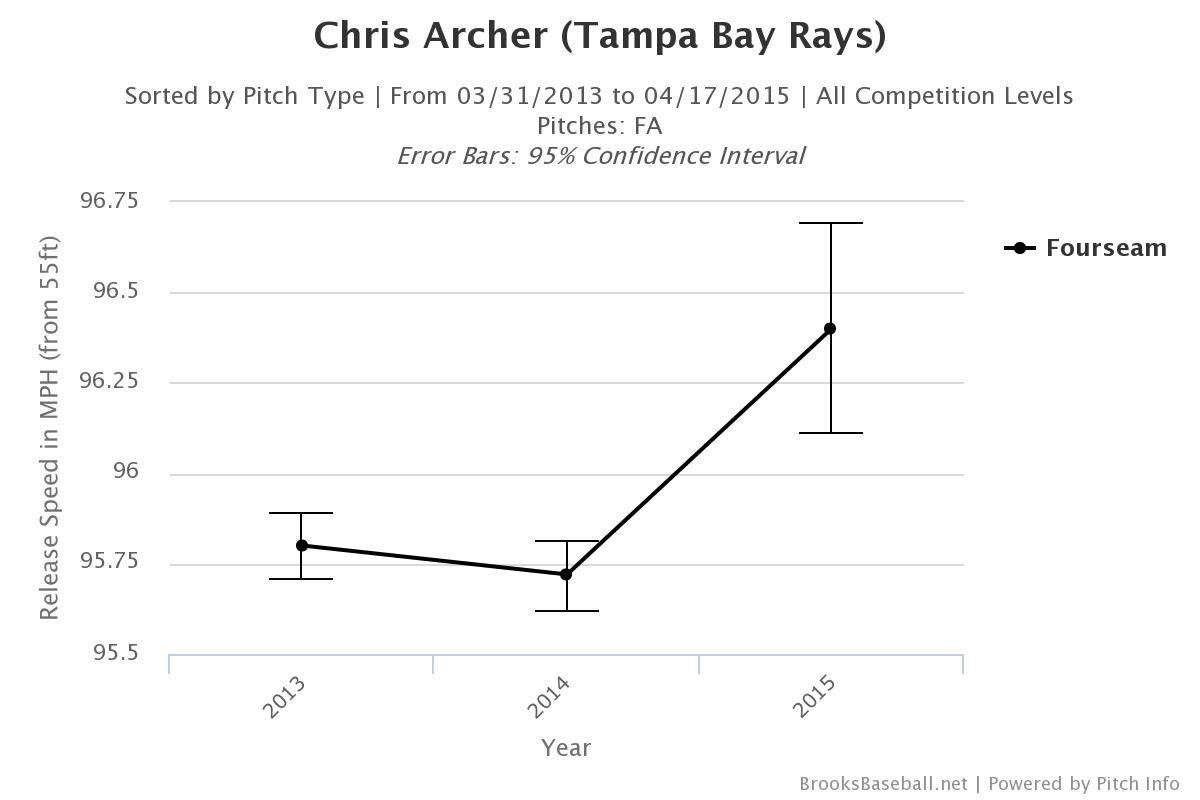 He was already one of the hardest throwing right-handed starters in the league, and he's added nearly 1 mph of velocity to his fastball thus far.
Not only is there more velo, but there is more rise to his fastball. It is
no secret
the Rays tend to chase pitchers who show rise to their fastball. While the thought of a thrown object rising as it is projected from a flat angle defies the laws of physics, rise on a fastball is "
a thing
." It is also a thing that Archer does very well, and is doing a little better this season.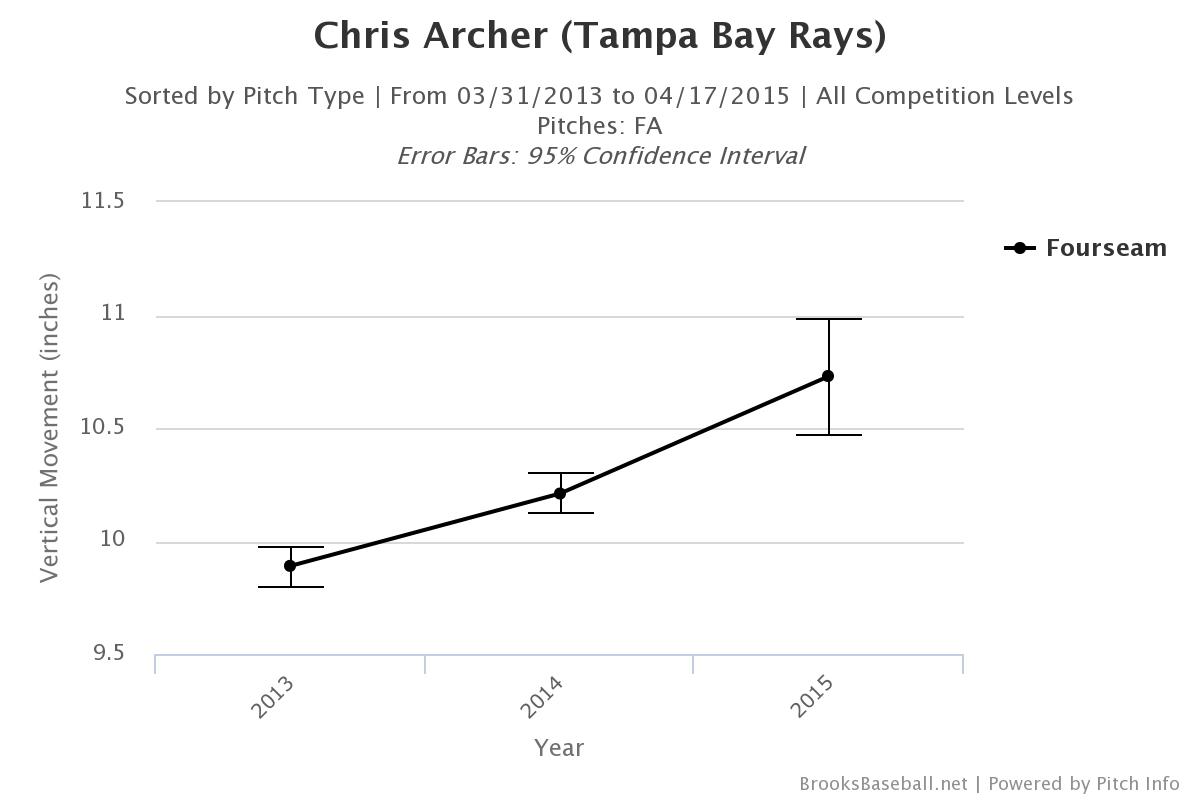 As good as Archer's fastball is, the slider is his money-maker. It's a nasty pitch that had a higher swing-and-miss rate last season than
Chris Sale
's slider. Archer is throwing the pitch
with increased velocity
this season as well as taking a bit off it. In his most recent start against Toronto, Archer was adding and subtracting velocity from the pitch, throwing it as hard as 90 and as soft as 84 without sacrificing movement. He's essentially throwing two types of sliders,
using it more frequently
, and generating more swings and misses with the money-maker.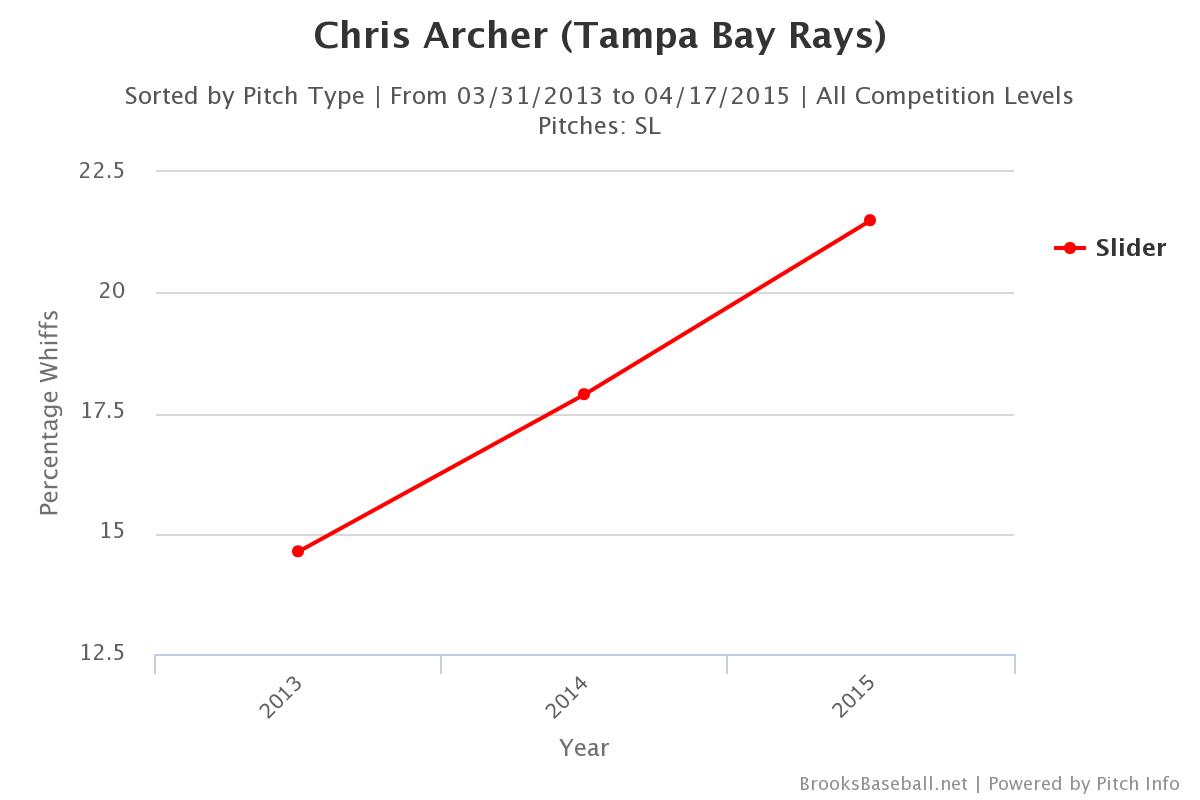 Not only is he getting more play on his slider, but he's flashing a better changeup this season as well. The changeup has always been an issue for Archer as it has rarely flashed potential and is something that he would throw in his back pocket the moment he hung one in a start. On average, Archer threw five changeups an outing in 2014. In 2015, he has increased that usage to a little more than eight per outing, taking his percentage usage from 5 to 9 percent. The increased usage comes from more confidence in the pitch as well as the increased results over three starts.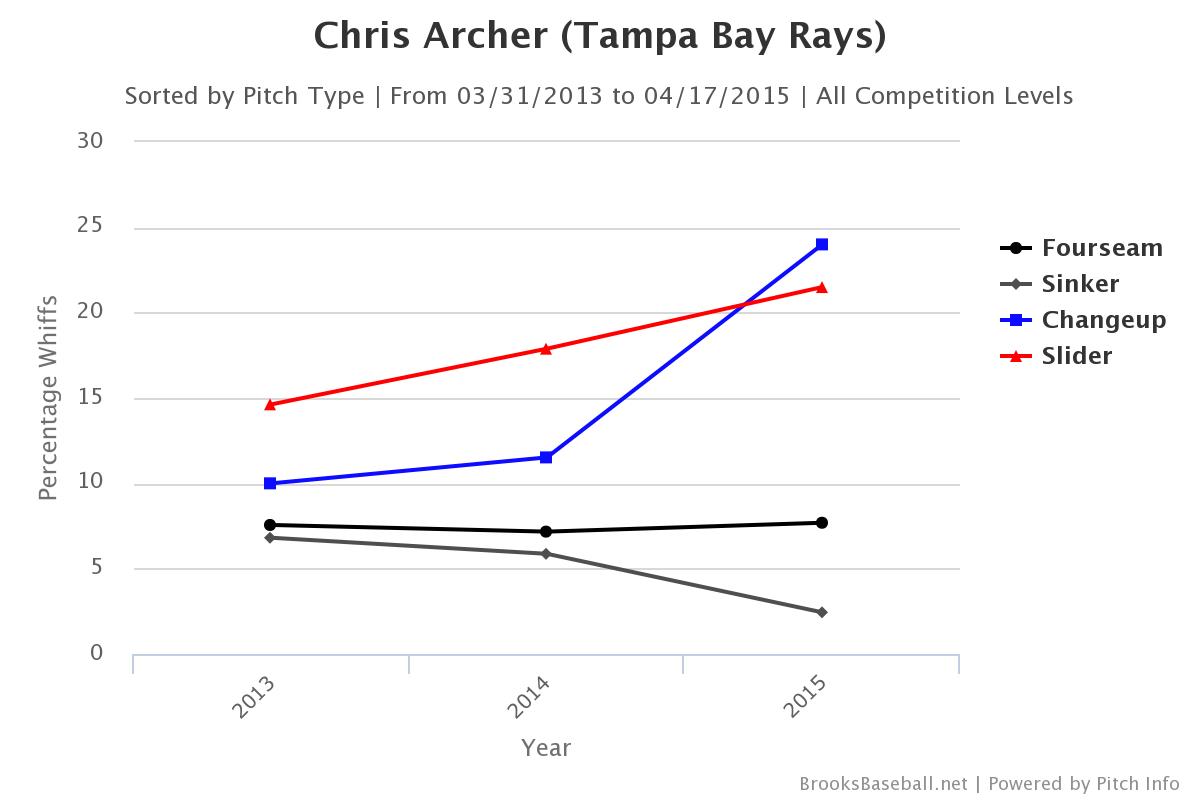 There are certainly a lot of numbers in Archer's game that are bound to regress. The 3.08 FIP still paints a very good picture for his future as his 90.0 LOB% and his .163 BABIP normalize. That said, as long as Archer continues to mix his three pitches effectively and keep the ball down in the zone (57 percent groundball rate) as he has done so far this season, he has a very good chance of continuing this step up to a front-of-the-rotation pitcher for the Rays and for fantasy teams.