Sometimes when I sit down to write this weekly column, I struggle to come up with a topic to discuss. Last week,
Shelby Miller
made my job easy as he came out and threw his second Maddux of the month and had a lot of people talking about it on Monday. This week, I didn't have that magic moment. I mean,
this slide
on Friday night by
Mike Trout
was 80 grade awesome, but I can't turn that slide into an entire article.
When that happens, I peruse the articles written by the other folks here to make sure I'm not re-hashing a topic that has already been covered earlier in the week. I also peruse the comments in the section to see what people are talking about, and that's where this week's topic comes from as two readers of
David Regan's latest piece
wanted to know about
Matt Shoemaker
. Truth be told, I enjoy player breakdown pieces more than anything else and really enjoy doing pitcher breakdowns because of the tools available to us. The increasing availability of statcast helps with looking into hitters, but I'm not yet in the circle of trust of people with full access to it. So, let's take a look into someone that I touted heading into draft season that has thus far disappointed.

Looking back at 2014:

Shoemaker's 2014 season was a good lesson in statistical scouting and league context. In 2013, he had a 11-13 record in Triple-A Salt Lake City with a 4.64 ERA. He allowed 212 hits in 184.1 innings in that Pacific Coast League affiliate and allowed 27 home runs. That ERA could have been much higher if Shoemaker was not stingy with the walks as he permitted just 29 free passes while striking out 160 batters. The Angels farm system was considered one the thinnest in baseball heading into last season, and even then, Shoemaker did not crack the top 30 prospect list done by Baseball America.
By season's end, Shoemaker had produced as much fantasy value in standard 12 team mixed leagues as
Jered Weaver
and
Mark Melancon
and more value than the likes of
Carlos Carrasco
,
Kenley Jansen
,
Aroldis Chapman
,
David Robertson
, and
Alex Cobb
. His K-BB% was the same as
Johnny Cueto
's and was better than the ones owned by
Jacob deGrom
, Gerritt Cole,
Cole Hamels
, and
Garrett Richards
to name a few. Batters made less overall contact (Contact%) with his pitches than pitches thrown by
Alex Cobb
,
Gio Gonzalez
, Jake Arrieta,
Zack Wheeler
and
Madison Bumgarner
. He even had a top 20 swinging strike rate last season.
All of this despite the fact his velocity was
mostly average
. Jeff Sullivan from Fangraphs noted late last season that there were four pitchers who logged at least 100 innings and threw a splitter at least 20 percent of the time:
Masahiro Tanaka
,
Hiroki Kuroda
,
Hisashi Iwakuma
... and
Matt Shoemaker
. Shoemaker's repertoire does very much align with Iwakuma, who until this season has had sustained success in the big leagues.
These were all of the reasons why I felt comfortable recommending buying Shoemaker late in drafts or auctions. That value wasn't there in Tout Wars as he went for $11 in AL Tout and $5 in Mixed Tout.
I did not get him in Tout Wars, and that's a good thing as Shoemaker's results are the type that are sinking fantasy stats through the first quarter of the season. After his latest shellacking at the hands of the Toronto Blue Jays, he is now 3-4 with a 6.29 ERA, a 23 percent strikeout rate, a 5 percent walk rate and a 1.24 WHIP.
When we see a good WHIP, an above average strikeout rate and a stellar walk rate along with that type of ERA, it is easy to find the culprit. You may recognize that culprit as a spherical souvenir in the hands of a fan sitting in the outfield seats. Shoemaker has allowed home runs in each of his last four outings and in six of his eight outings this season. He has also permitted multiple home runs in five of his eight outings this season.
The list below shows the only pitcher (min 40 IP) that have strikeout rates and walk rates better than Shoemaker's.
The 13 home runs have led to his ERA being two and a half runs higher than anyone else on the list and to him stranding the lowest percentage of runners of the bunch.
2014 vs 2015
The table below shows how batters are treating Shoemaker's pitchers in 2015 versus 2014:
| | | | | | | | |
| --- | --- | --- | --- | --- | --- | --- | --- |
| YEAR | O-SWING% | Z-SWING% | SWING% | O-CONTACT% | Z-CONTACT% | CONTACT% | ZONE% |
| 2014 | 30.8 | 64.0 | 46.2 | 56.1 | 87.6 | 76.3 | 46.4 |
| 2015 | 32.5 | 60.9 | 46.3 | 56.5 | 91.1 | 78.5 | 48.5 |
The data shows that batters are chasing (O-Swing%) as frequently as they did last season and are swinging at the same percentage of pitches overall (Swing%). They are not making any more contact on pitches out of the zone (O-Contact%), but they are making more contact on pitches overall (Contact%) and more importantly, pitches in the zone (Z-Contact%). One thing that doesn't show up there are the meatballs Shoemaker has served up for many of the homers.
As someone that has just average velocity, Shoemaker is someone that has to avoid the heart of the zone and work the fringes while hitting his spots. Work side to side or work up with effective velocity to set up the splitter down. Miss either direction and boom goes the dynamite.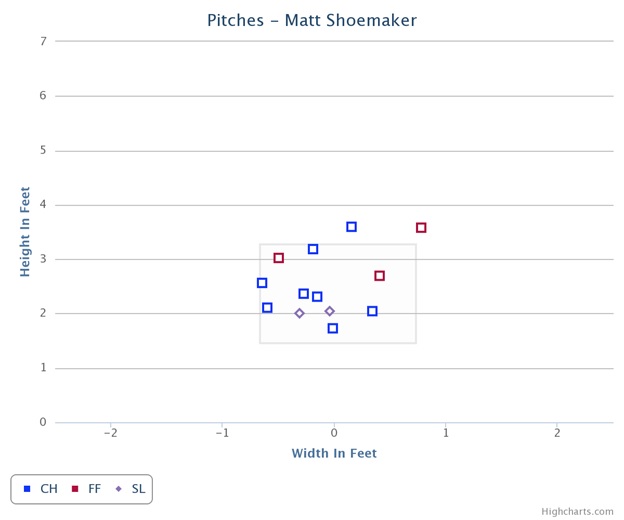 The issue for Shoemaker has not been his fastball, but his splitter/changeup. When he's hanged them, they've banged them. Eight of the 13 homers have come off the splitter, and 7 of them have been elevated pitches.
The rest of his pitches, in terms of whiff percentages, are at least as good as they were in 2014. In fact, Shoemaker has a higher whiff rate with his fastball this season than he did last season.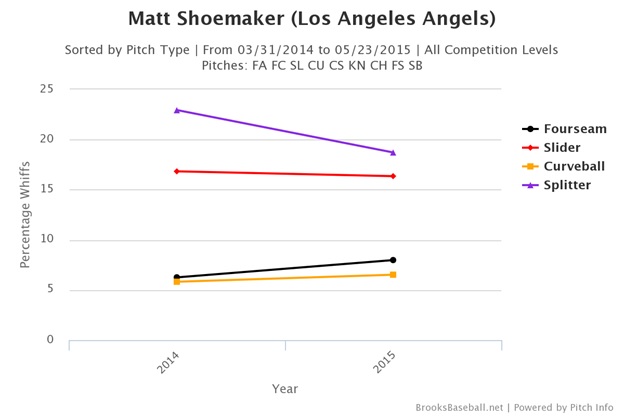 While his velocity is down
just a hair
, the hanging of the splitters is more of a mechanical issue than it is one to do with velocity. Last year, he was able to bury the pitch to the
bottom of the zone
with regularity whereas this season, he's leaving the pitch up in the zone with an
alarming frequency
. The increased elevation of pitches has led to him becoming an extreme flyball pitcher this season, and that's a scary thing given one of every five flyballs he allows has become a home run. He is making more of an effort to work up in the zone with his fastball, perhaps to
take advantage
of the theory of
Effective Velocity
, but he's paying the price early on in this approach if that is indeed his intended path.
Shoemaker needs the splitter in order to be successful because it is his swing-and-miss pitch. Perhaps a mechanical tweak can be put in place by pitching coach Mike Butcher to allow Shoemaker to properly finish off the pitch, because that isn't happening now. He allowed just two home runs on splitters last season, and he's already more than tripled that. If Shoemaker can get his splitter re-aligned, then he could turn his season around. However, if he continues to hang his splitter, he is going to continue to pay the price of doing so.