My apologies for the slight hiatus of this column, but life
threw me a big curveball
last week, so I put myself on the bereavement list. I wrote that piece the morning after I returned home from driving 12-plus hours back to the Charlotte area from Fort Myers with my brothers provided much-needed laughter in a weekend full of tears. Frankly, writing today is not much easier because today would have been dadís 65th birthday, but dad also hated quitters, laziness and being late. Me pushing things off, on his birthday no less, would probably have led to him using his spiritual powers to disconnect my power or smite with a serious case of the trots.
Thankfully, baseball has been somewhat of a distraction with the Rays actually winning a few games and the rumors and actions swirling around the trade deadline. The last time I wrote a piece, it was on the Red Sox acquiring
Drew Pomeranz
. This time around, letís look at the three most notable moves of the week, at press time, and how they will impact the fantasy season stretch run: Torontoís acquisition of
Melvin Upton Jr.
, San Franciscoís acquisition of
Eduardo Nunez
and the Padres/Marlins quantity swap.
The move for Upton is a bit different than most deals of this nature because Upton is controllable through the 2017 season. He cost the Jays the talent of
Hansel Rodriguez
, but the Padres liked Rodriguez enough to where theyíre paying all but $5 million of the $21 million still owed to Upton. The move helps the club in a couple ways. For one,
Jose Bautista
is likely walking after this season since the two sides have yet to agree on a contract extension. Second,
Michael Saunders
is also in his walk year, so the depth chart clears up quite a bit before the start of next season, allowing Upton a full-time role, whereas now itís a bit crowded. As it were, Upton has only started in one of the three games in which he has donned a Jays uniform. Itís that uncertain playing time that hurts Upton.
Ballpark wise, Rogers Centre and Petco Park have not been that far apart in terms of park factors, according to ESPN:
| | | | | | |
| --- | --- | --- | --- | --- | --- |
| PARK | RUNS | HR | H | 2B | 3B |
| Rogers | 1.047 | 0.985 | 1.062 | 1.187 | 1.167 |
| Petco | 1.014 | 0.958 | 1.066 | 0.959 | 0.684 |
The doubles and triples are heavily in favor of Rogers Centre, but that can be explained by the synthetic surface indoors versus the luscious grass of Petcoís outdoor setting. In terms of runs, home runs and hits, the parks are nearly identical. Normally, I would lean to a three-year park factor, but
strange things
are afoot at the Circle K where baseballs are made this season (something
I looked at
from a less-scientific angle in late May). Between the ballpark wash and losing at bats in a more-crowded situation, this is not a great move for Upton or for his fantasy owners. Next season, things will look better and Iíd still rather be in Rogers Centre than Petco for hitting, so if you can get him in a keeper league this year, go for it.
Hansel Rodriguez
is a 19-year-old lotto ticket that is still pitching in Rookie League ball. Baseball America ranked him as the 18th-best prospect in the Toronto system before the season, and he is all projection at this point and not rosterable in even the deepest of dynasty leagues.
The Giants added some lineup and defensive (in theory) flexibility in acquiring
Eduardo Nunez
. For years, many of us had Nunez as a MI type in our AL-Only leagues as speed speculation, but he was empty speed that did not play enough. The Twins finally gave him a chance to start this season and he has been one of the biggest fantasy surprises in baseball, as he was tracking toward a 20/40 season. The funny thing about him is he is still not much of a defender and is still not a disciplined hitter, but perhaps he too saw the balls behaving differently and changed his approach.
The last two seasons, he had a 2.0 groundball/flyball ratio; this season, it's down to 1.5 as he is back to hitting flyballs like he did when he was with the Yankees but wasnít getting the same distance. Like Upton, this is not a good move for his fantasy value, but doubly so. The Giants are not going to break up the double play combo of
Joe Panik
and
Brandon Crawford
, so Nunezís playing time will have to come at third base until
Matt Duffy
returns, and then playing time becomes more scarce. He can pinch run for steals in the NL format, but whereas he had a shot at 20 homers in Minnesota, that is not happening now. If you can afford to give up the speed, move the current numbers he has because this trade hurts his value, and unlike Upton, there is no clear path to playing time in 2017 either.
In return, the Twins received lefty
Adalberto Mejia
, who was ranked as the 10th best prospect in the system by Baseball America entering the season. He is 23 and trying to recover from a suspension-impacted 2015 season that saw him work just 82 innings between Double-A and the Arizona Fall League. He profiles as a back-half starting pitcher.
Then we have the Marlins and Padres with their quantity shuffle. The Marlins netted
Andrew Cashner
,
Colin Rea
and
Tayron Guerrero
while the Padres grabbed
Jarred Cosart
,
Carter Capps
,
Josh Naylor
and
Luis Castillo
.
Cashner gets inserted into a playoff race where the Marlins currently have a 16 percent chance of making the postseason, according to the odds from Fangraphs. Since returning from the disabled list, Cashnerís velocity has recovered fully with even a little bit of an extra bump: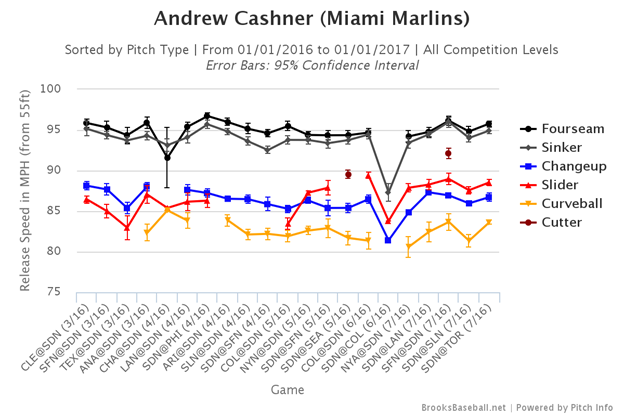 Coincidentally, Cashner is
getting more whiffs
on his slider lately than he was pre-injury as batters are perhaps gearing up for the fastball and getting the slide piece. He has made five starts since coming off the disabled list and has a mixed bag of results. The 10.6 K/9 is nice, but nine homers in 26.1 IP has led to a 4.78 ERA in those five starts. Four of those homers came in an outing against the Dodgers in his second start back, and he gave up two lasers in Rogers Centre earlier this week. Marlins park is tougher on homers (0.814 park factor) than Petco (0.958), so thatís a nice advantage for Cashner as is the fact Atlanta and Washington are also tough on homers. Outside of the disaster outing against the Dodgers, Cashner has struck out at least six batters in each outing since his return from the disabled list and now gets extra games against the Mets and Phillies, both of whom strike out above the league average. His slash line makes him very easy to pick up in a deal, and there could be some hidden value in him down the stretch.
Colin Rea
is a backend guy, much like the pitcher he replaced in Cosart, but he can actually miss a few bats. He has a 6.9 K/9 in nearly 100 innings this season, but walks too many batters and is prone to the big fly, which makes him a one-category contributor. The Padres cashed in on youth and upside in the deal. They took on Cosart so someone could start games for them, but there is nothing there fantasy wise. He canít strike anyone out and his command is terrible.
Capps is the big lotto ticket because if he fully recovers from Tommy John surgery, they'll have a dominant late-inning reliever. But Capps wouldnít even be in the bullpen picture until the second half of the 2017 season, at best.
Baseball America had Naylor as the second best prospect in the Miami system. He is in Low-A and is a first-base prospect with risk, because he hasnít yet shown the power for the position, but is hitting .269/.317/.430 with nine homers and 10 steals as one of the youngest players in the South Atlantic league, turning 19-years old just last month. Castillo turns 24 in December and has yet to get out of A ball, but is having an interesting season this year in that he has allowed only two home runs in 100 innings and has a 84:15 strikeout-to-walk ratio.
Hopefully, the next few days bring some more exciting trade action to review next week. In the meantime, call your dad or go visit him. RIP, pops.