We woke up last Sunday morning with the news that the Reds and Braves were finalizing a deal to trade
Brandon Phillips
back home to Georgia. By mid-day, we learned that the Reds were paying for most of the deal and the Braves needed to get the deal done because
Sean Rodriguez
was going to miss a majority of the season due to a shoulder injury related to his recent car accident. The largest fantasy impact of this deal one of the names not traded by either team –
Jose Peraza
.
Peraza was already very high on a lot of lists with an ADP of 139 and has been taken as high as 91 in drafts. He is the 12th second baseman off the board, as a reserve, while
Brandon Phillips
is the 22nd second baseman with an ADP of 287. With Phillips out of his way, expect Peraza's ADP to go up even higher and possibly scratch the top 100. There are 11 second baseman in the top 100 with
Jason Kipnis
the low man at 95.
Why could Peraza jump up that high? Simple – there is a need; a need for speed!
Peraza's projections have been updated to reflect the newfound playing time and he is now one of six players our projections have stealing 40 or more bases. Prior to the deal, I don't know what his projected stolen base total was but Baseball Prospectus had him at 19 and Steamer projections had him at 26. Peraza is popular because steals are precious.
The image below shows the league-wide stolen base totals over the past five seasons as well as a linear forecast for where that total may be for the next couple of seasons: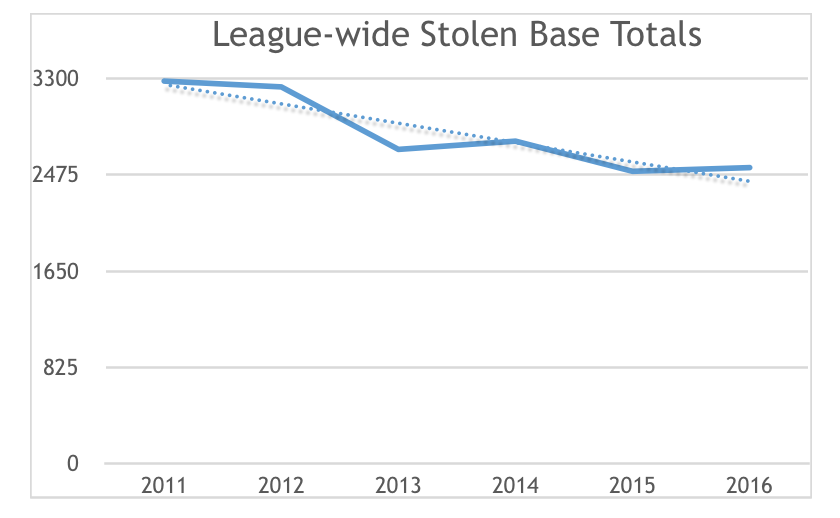 There are a few ways to handle this disturbing trend. You could always go the route of Dune and say he who controls the steals controls the universe. These are the 11 players we project for 30 or more steals in 2017:
You could try to corner the steals market by making two early plays on speed. Last season, 154 steals won the category in the Tout Wars straight draft and finished tied for second in the auction format. If you were to pair up
Trea Turner
in the first round and come back with
Jean Segura
in the fourth round, you would be half way to that 154 with just two of your 14 roster spots occupied. Better yet, it is unlikely you need to get to 150 to win the category with teams stealing fewer bases nearly year after year. In an auction format, that kind of power play could end up costing $65-70. Either way, you have a lot of runs, a lot of steals, good batting average, but you're likely very light on power compared to your competition.
My trepidation in doing something like this is that if one person tries to corner the market in steals, the other owners could all zag and try to place or show in steals and not worry about winning the category. Let the hoarder run out to a big lead and then watch that big lead in the category do nothing for him once he has distanced himself from reach.
Conversely, there is not much to gain by playing the waiting game with steals either because it is the same two guys who are always there – Davis and Dyson – with a more uncertain Janowski in the mix. Davis and Dyson aren't as undervalued this season as both are projected for increased playing time in their new homes.
There is also another class of guys in that 25-29-steal range who could possibly join the group above as
A.J. Pollock
,
Keon Broxton
,
Tim Anderson
,
Charlie Blackmon
,
Byron Buxton
,
Yoan Moncada
and
Jacoby Ellsbury
are each projected to steal that many bases. Adding another five on to a group like that is not much, so I instead would like to look at players we have stealing fewer than 25 bases who could be a surprise push for 30, and I'll start with a guy just below that group who I mentioned in last week's
NL Bold Predictions
piece.
In that piece, I said Manny Margot steals at least 20 bases and scores at least 80 runs. Despite his youth, I still like him as the best candidate to be the leadoff hitter for the Padres and Andy Green does like to run. Margot has the wheels to steal bases as he has swiped 30 each of the last two seasons in the minors. We project him for 24, but that could end up being a bit light if he hits as his minor league track record indicates he can.
Adam Eaton
has never stolen as many as 20 bases at the major league level and only once topped 25 in the minor leagues, and that was in 2012 when he stole 38 bases thanks to being on base 46 percent of the time in Triple-A that season. Now, Eaton takes his excellent OBP skills to the nation's capital where Dusty Baker loves to run. Eaton likely will lead off because it would give the lineup a L-R-L setup with Eaton, Turner and
Bryce Harper
1-2-3. Baker has always had an aggressive approach with the running game, so I have a tough time seeing Eaton stealing fewer than 20 bases and think he could get into the upper 20s as long as he maintains that streak of OBP's above .360, which he has done for three consecutive seasons. He went in the seventh round of the Mixed LABR draft, much to my consternation.
Remember
Ben Revere
? Just mentioning his name probably caused a few of you to utter a few swear words because his performance, or lack thereof, was one of the reasons why you did not win your league last year. Last year was the first time in the last six years Revere stole fewer than 22 bases and it happened because he simply stopped getting on base. The career .335 OBP guy dropped 75 points lower in his OBP and could not buy a hit for anything. He has zero pop, so pitchers just pounded him in the strike zone with fastballs, and he did nothing with them. Normally a 3:1 grounder to flyball guy, he was 2:1 last season as he stocked the outfield shelves with too many cans of corn. He may not be a starter, but he could also end up in a platoon with
Cameron Maybin
and should still find 20 steals while enjoying a batting average resurgence. RotoWire Colleague Paul Sporer and I took him in the fifth round of the LABR Reserves for this very reason.
Mallex Smith
could be a lot like Revere in that he may not be a starter this year, but he also may not need that much playing time to steal 20 bases. He has plenty of speed to burn, and the club wanted him so much they forced Seattle to trade for him to send
Drew Smyly
to the northwest. Smith could make the club out of camp if
Colby Rasmus
is not fully recovered from offseason surgeries and could take advantage of slapping the ball in the turf and then using the same green light Kevin Cash gave
Kevin Kiermaier
in the second half last year. Smith is relatively cheap because of the lack of a clear path to playing time, but he could be used in late innings as pinch runner and a weapon.
Let's stay with this particular train and go back to Revere and the bounceback theory as we look at
Delino DeShields Jr.
He was a bust last year at the plate and in the field, so the speed can be had very cheaply. He stole 29 last year between Triple-A and the majors and enters this season as the fourth outfielder in an outfield that has two lefty batters. He stole 25 bases in 2015 in fewer than 500 plate appearances and could find 20 steals if he gets to 350 plate appearances this year. He, like the previous two players, is a deep AL-Only play or a deeper mixed league bench grab, but he will be about the cheapest speed available in many leagues.
Ketel Marte
would fit this line of thought too because his sophomore season was definitely a disappointment last year. He was inappropriately put into the leadoff spot at times last year and tried to do too much up there. The 10 percent walk rate in 2015 plummeted last year and he could not get on base enough (.287 OBP) to steal the 20-plus bases he was projected to steal. He swiped 28 in 122 games between Triple-A and the majors shows what he can do when he gets on base and Arizona can leave him down in the lineup. His job down there will be to show the strike-zone discipline he had in 2015 as pitchers try to work around him to get to the non-Greinke hitting pitchers and then use his speed to make them pay.
Yoan Moncada
being dealt to the White Sox was better for his short-term fantasy value because a path to playing time is more apparent. He stole 45 bases between High-A and Double-A last year on the heels of a 49 steal season in 2015. Stealing bases in the lower level of the minors is a bit easier than it is at the upper reaches, but Moncada is fast. If he can get to 450 plate appearances, a 20-plus steal season is doable for the kid because the rebuilding White Sox should be able to give he and
Tim Anderson
a lot of playing time to continue their growth as players.